Only 3% of students actually made into a lesson from direct messages, the most popular way of getting into lessons.
The goal of this project was to figure out the Q1 largest problem of how to get more students into lessons they love.
A secondary goal was to test the 5-day Google Ventures Design Sprint process to learn faster, e.g., get a prototype into testing with users in 4 days. I had done this process before at a previous organization, but it was new to this company.
My role in this project was facilitating the design sprint process. I worked on this with product, user research, engineering, community, and business. Stakeholders included execs, marketing, customer support, and data science.
The map below shows where we focused on for this 5-day sprint: The coordination before the lesson, where the most drop off was happening.
The group looked at inspiration ranging from DogVacay and UrbanSitter to Facebook Messenger chatbot and Slack. Below are some of the relevant big ideas from the inspiration using the Google Design Sprint lightning demos process.
The group did the Design Sprint process way of sketching by synthesizing notes about the greatest hits from the day's problem solving. Then ideated in mind maps, words, drawings, etc. to get a wide range of thoughts out. Then refined favorite ideas by sketching in short 1-minute bursts, eight times. And finally to solution sketching, which drives the prototype.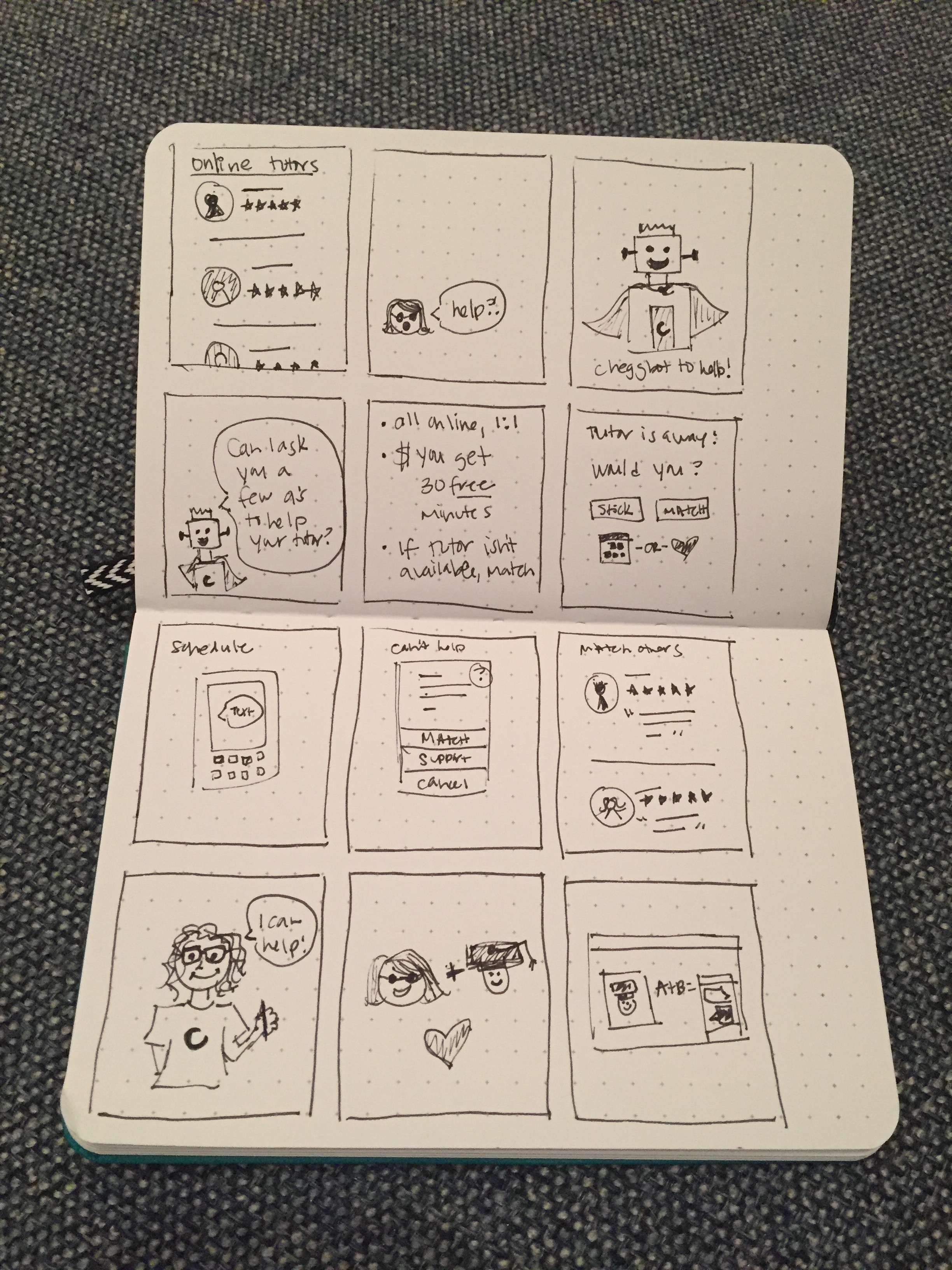 Laid out the story of a chatbot guiding the student to a tutor when they were having trouble connecting to one. This set the foundation for the prototype.
Since it was a chatbot prototype, we did a coded prototype, so we could test the interactivity of actually chatting. This was a very, rough, initial prototype since it was built in less than a day and had less than a hour or so of design time.
Tested the prototype with five users and learned that some were fine with chatting with chatbot, but all just really wanted to talk to a tutor, or a human.
Shared notetaking (on the right wall) is a really cool way to internalize findings as a group!
mini design sprint round 2
We followed up this 5-day design sprint with a 3-day design sprint to iterate on the learnings from user research and see if we could condense parts of the process we felt worked best.
We focused on ways to get students in touch with more tutors, including more offers, chatting with humans and inviting tutors they're interested in working with within one part of the journey.
Currently these features exist, but broken up in different parts of the user journey, so this is a first iteration at stitching the experience.
Next steps
Prioritized next steps with product based on learnings and chunked out into user stories
Diverged into standard design process and iterated priority by priority as partnered with product and business to decide
Assessed what's the next project that the design sprint process might be good for, e.g., perhaps the largest problem we're trying to solve each quarter